LASH EXTENDER III
Transform your lashes with Lash Extender III for the ultimate lash experience!
Our easy-to-apply, lightweight, 100% natural cellulose fibers seamlessly build onto your lashes to achieve maximum length, thickness, and volume instantly in three simple steps:

Step 1: First, prep lashes with your favorite Mascara.
Step 2: Next, extend lashes with fibers, using a gentle patting motion, and apply fibers onto the top of the lashes, starting at the middle and working outwards toward the tip.

Step 3: Finally, set them in place with mascara, applying a final coat to lock in the fibers, leaving lashes with dramatic volume.  Repeat all steps and make your lashes as long or thick as you want!
In addition, our fibers are coated with nourishing peptides and conditioners that stimulate growth. 
With Lash Extender III, your lashes will look spectacular.  It's a must-have addition to your beauty routine.

Why You'll Love It
Instantly lengthen and plump your lashes up to 5X their natural length
Easy application—Apply mascara, brush on the fiber extensions, and seal with another coat of mascara
It's super buildable – make your lashes as long or thick as you want
Compatible with contact lenses 
Cruelty-Free & Paraben-Free
30-day money-back guarantee 
Boswellia Serrata: Used for strengthening hair roots, reducing breakage and fallout while improving shine.
Cynara Scolymus Extract: Provides natural pigment to your luscious lashes without any chemicals or artificial colors.
Myristoyl Pentapeptide-17: Uses plant-based fibers for length, thickness, and lash volume while continuously stimulating the keratin gene.
Ocimum Basilicum Extract: A potential hair loss inhibitor.
Tocopherol: Stimulates hair growth in addition to conditioning the skin and keeping hair follicles healthy.
Cellulose, Panthenol, Cynara Scolymus Extract, Myristoyl Pentapeptide-17, Tocopherol, Lecithin, Panax Quinquefolius Extract, Boswellia Serrata, Aloe Barbadensis, Urtica Dioica Extract, Ocimum Basilicum Extract, Rosmarinus Officinalis Extract.
Step 1: Complete one eye at a time. Apply 1 coat of your favorite mascara.
Step 2: While mascara is still wet, apply Lash Extender III Fibers to the tips of your lashes to achieve desired length and thickness.
Step 3: Reapply 1 or 2 coats of mascara to seal fibers and extend lashes. Repeat steps 1–3 for ultra-long lashes. This product should not be used alone or on dry lashes. Use any makeup brush to sweep strays off face. Remove with any makeup remover.
Lash Extender III Directions
Lean into it!
Since the fibers can disperse down onto cheeks, lean towards your mirror and over your sink as you apply.
1-2-3 Steps!
o AH-mazing lashes! Always apply a coat of mascara before and after a coat of fibers.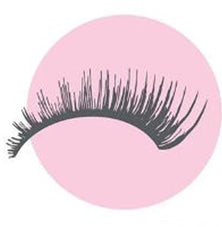 Lashes 1st!
Apply lashes before facial makeup, so any fiber residue is easy to clean up.
Dust it off!
Use a powder brush to simply swipe away any fibers that may have fallen during application.
Tap it!
Always tap your fiber brush before application, so excess fibers fall off.
CLINICAL RESULTS
LONGER, THICKER, HEALTHIER, BOLDER LASHES & BROWS
*Based on a 60-subject consumer perception study after six weeks of use.
Cruelty Free
Paraben Free
Sustainable
Vegan